Rapel – The Emerging Tourist Destination That Is Super Close to Santiago
I LOVE CHILE WAS GIVEN A DAY TOUR OF RAPEL, LOCATED IN THE SIXTH REGION, TO SHOW IT OFF AS A TOURIST DESTINATION. "A WORLD TO DISCOVER" IS THE MAIN PHRASE OF THIS INITIATIVE – AND IT'S TRUE.
Rapel — The tour was carried out to show the improvements and diversification of tourist sites in Rapel, which have taken place thanks to a project called "Implementation of Innovative Solutions Rapel Lake."
The invitation was to tour all of Rapel, across the lake and much more. The area is emerging as one of the main tourist destinations near Santiago, noted for its landscapes, nautical sports, gastronomy and cultural appeal. In addition to this, it is a perfect place for resting, sailing, riding, trekking and visiting the Ecologic Park of Llallauquén and ruedas of Lamarhue.
The Tourist Project
The Ecotourism School of Andres Bello University (UNAB) along with the support of the regional government and Sernatur have developed a project in Rapel to foster the tourist activity of the destination. This involves strengthening it in a sustainable way and not threatening the status of the lake.
The work of the project focuses on the localities that are linked to Rapel, such as Las Cabras La Estrella, Marchigüe, Pichidegua and Litueche.
Among others goals, the project seek to support and strengthen Rapel's image, improve the management of the area, reduce the seasonality and show Rapel as a restful destination which is safe for visiting.
The Gastronomic Route
A variety of traditional food with a touch of the gourmet is what you can expect to find on Rapel's gastronomic route, which was developed by the Ecotourism School of UNAB to foster tourist activity in the area.
The gastronomic route is organized by a cookbook, where you can see 18 recipes of the most important restaurants, such as Lechería Los Maitenes and Buca Di Bacco, El Sol and Gladys, el Jardín del Lago, Marina Golf, La Cueva del Conejo, Marina Punta Verde and Donde Aquiles.
"We saw that there was a need to empower Rapel and improve the lake, so visitors live through an experience when they come to the area, through gastronomy, nature, sports and cultural attractions such as folklore events and religious customs. And part of this is our mission as Andrés Bello University, through the Ecotourism School."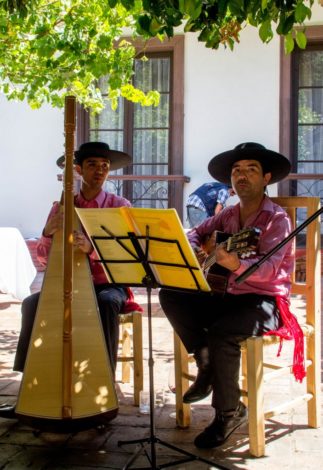 Comments (2)
Klaudia
Appreciation to my father who told me about this web site, this blog is really awesome.